The first thing people ask when they see my collection or when telephone stamps are mentioned is: There were telephone stamps? Followed by: Why did they make stamps for telephones and how were they used? Good questions and ones I pondered for quite some time before starting this endeavor!
When you mention a stamp, most people think of postage and the U.S. Mail but there have been many other uses of stamps such as the taxing of products, registering of vehicles, hunting and fishing licenses, sending telegraph messages, and the list goes on. I use the term stamp as a general term when referring to telephone stamps collectively. These types of stamps have been described and referred to as stamps, passes, franks, and most often message coupons. It could be said that some telephone stamps really aren't stamps as so many are marked coupon, but are in the physical form of a stamp. The definition of a stamp is a small adhesive piece of paper stuck to something to show that an amount of money has been paid. Here are some examples of gummed telephone stamps that were applied to a form by the New England Telephone and Telegraph Company.

Telephone stamps were most often used for payment of a toll or long-distance charge. They would be used at local telegraph/telephone exchanges and pay stations before they became self-serve coin-operated. They could also be used to pay your bill once the telephone companies started monthly billing. Some were gummed and applied to a form or bill, but most were  just handed off for a call or to pay a bill. They came in booklets of a certain value: $5.00, $10.00, on up to $100.00, usually containing multiple denominations.

As telephone companies were vying for business, many offered their stamp booklets at a discount in an attempt to lock in the customer to using their lines and service, and to pre-sell their phone charges in bulk to big users. Sometimes these booklets were used as perks and given to business associates, contractors, politicians and newspaper publishers to get a little extra press coverage. Companies and even municipalities purchased them in bulk to give to their employees who needed to make calls while out and about, or just to get the discount rate since they were making a lot of toll charges.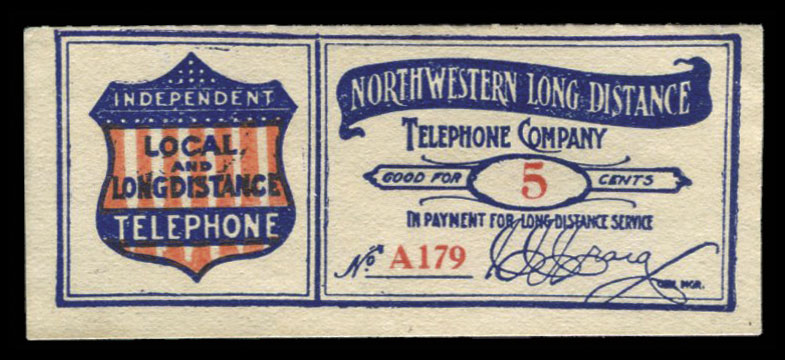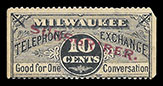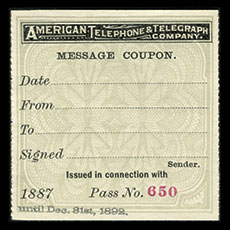 Currently the earliest dated telephone stamp/coupon, shown at left, was produced in 1887 by the American Telephone & Telegraph Company, known today as AT&T. They produced telephone stamps dated all the way through to 1957. Most telephone stamps were produced throughout the 1890's and into the 1920's. Currently the latest or most recent telephone stamp is dated 1959, produced by Mountain States Telephone & Telegraph Company.

At the bottom of the page is the current list of companies who have been confirmed, with actual examples, of having produced a stamp or multiple stamps, franks or coupons for toll calls. At the end of the list are companies that are known to have produced stamps, but have not been confirmed with an actual physical stamp or image of one. So we know there are stamps out there that have not been confirmed or included in the new catalog. What's in your collection?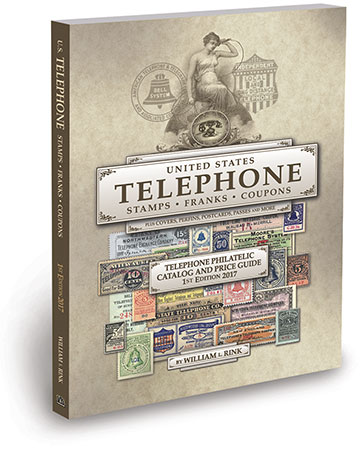 TELEPHONE PHILATELIC CATALOG AND PRICE GUIDE
Now available: 180 page full-color book containing information and history on everything telephone philately related. Over 750 stamp listings, stamp booklet images, 110+ telephone company covers, every perfin produced by United States telephone companies, postcards, passes and poster stamps.
COMPANIES THAT PRODUCED TELEPHONE STAMPS:
American Telephone and Telegraph Company
Bell Telephone Combination Coupons
Bell Telephone Company of Buffalo
Bell Telephone Company of Missouri
Bell Telephone Company of Philadelphia
Central District and Printing Telegraph Company
Central New York Telephone and Telegraph Company
Central New York Telephone and Telegraph and Empire State Telephone and Telegraph Company
Central Pennsylvania Telephone and Supply Company
Central Union Telephone Company
Colorado Telephone Company
Cumberland Telephone and Telegraph Company
Delaware and Atlantic Telegraph and Telephone Company
Evansville Telephone Exchange
Gordon Telephone Company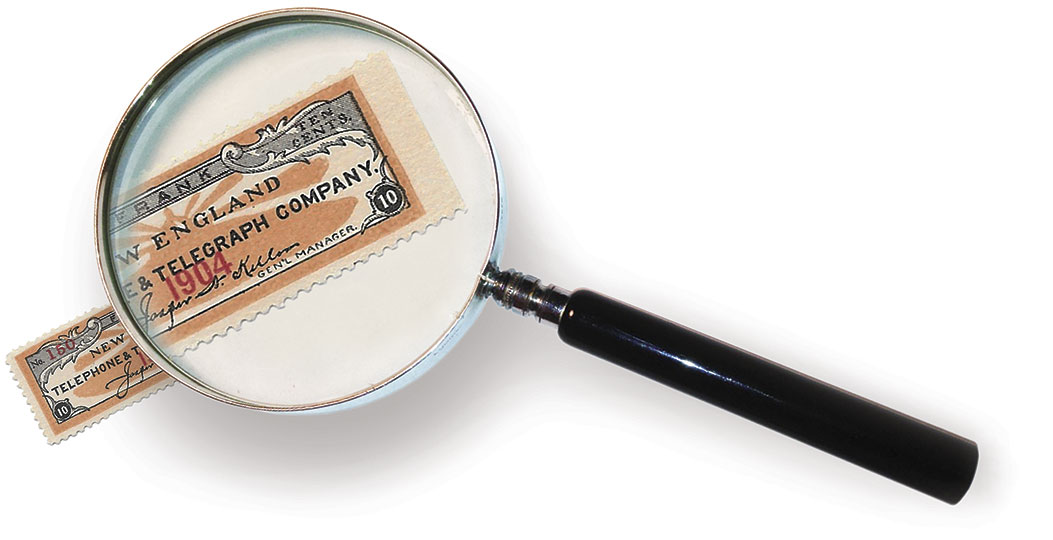 Hudson River Telephone Company
Interchangeable Message Coupons
Inter Ocean Telephone and Telegraph Company
Iowa Telephone Company
Metropolitan Telephone and Telegraph Company
Michigan Bell Telephone Company
Michigan State Telephone Company
Milwaukee Telephone Exchange
Minnesota Central Telephone Company
Missouri and Kansas Telephone Company
Monmouth Toll Line Company
Moore's Telephone System
Mountain States Telephone and Telegraph Company
National Bell Telephone of the State of Maine
New England Telephone and Telegraph Company
New State Telephone Company
New York and New Jersey Telephone Company
NY and Pennsylvania Telephone and Telegraph Company
New York Telephone Company
NY Telephone and the NY and NJ Telephone Company
Northwestern Long Distance Telephone Company
Northwestern Telephone and Construction Company
Northwestern Telephone Exchange
Ontario and Steuben Telephone Company
Pacific States Telephone and Telegraph and Sunset Telephone and Telegraph Company
Pacific, Sunset, Inland, and Oregon Telephone and Telegraph Company
Pacific Telephone and Telegraph Company
Pennsylvania Telephone Company
Providence Telephone Company
Rocky Mountain Bell Telephone Company
Southern Bell Telephone and Telegraph Company
Southern Massachusetts Telephone Company
Southern New England Telephone Company
Southwestern Telegraph and Telephone Company
Star Telephone Company
State Line Telephone Company
Sunset Telephone and Telegraph Company
United Telephone and Telegraph Company
Wausau and Merrill Telephone Company
Wausau Telephone Company
Wisconsin Telephone Company
Yreka, Scott Valley, and Klamath Telephone Company
Zanesville Telephone and Telegraph Company
COMPANIES KNOWN TO HAVE PRODUCED STAMPS BUT AREN'T CONFIRMED:
Chicago Telephone Company
Cleveland Telephone Company
Midland Telephone Company
New Ottawa Telephone Company
Northern Telephone Company
Northwestern Telephone Company
Tai-State Telephone and Telegraph Company
United States Long Distance Telephone and Telegraph Company