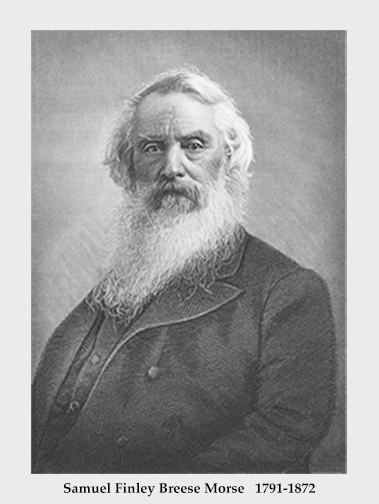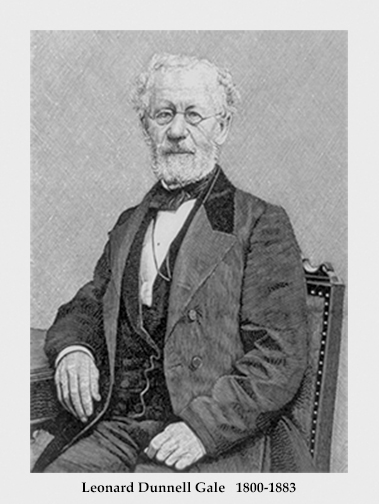 The invention of the telegraph was one of the first dramatic changes in the way we communicated as a society. The technology was being engineered simultaneously by multiple people in different locations around the world. Here in the United States, Samuel Morse and Leonard Gale were at the forefront of this new technology. And of course the language of Morse code can be attributed to these two amazing individuals.
The telegraph revolution began on May 24, 1844 when Morse sent Gale the historic first message: "What hath God wrought!" The industry exploded and telegraph companies popped up all across the country but as the industry matured, and like most, these companies merged or got gobbled up by the big guys until all that was left were a couple of huge companies. The two that rose to the top were the Postal Telegraph Company and the Western Union Telegraph Company. Ultimately, they too, were merged together under the name Western Union. Eventually other technologies, the telephone in particular, took a big slice out the communication side of the business. Western Union has kept alive, mostly by moving money by wire. In 2001, Western Union celebrated its 150 year anniversary with over 100,000 agent locations worldwide. In 2006, they discontinued their telegram service. Amazing that people were still sending telegrams in 2005. Now Western Union is all about moving money. In 2006, they handled 147 million consumer-to-consumer money transfers and 249 million consumer-to-business transactions.
In the early days of the telegraph, many of the companies produced telegraph stamps or franks as payment for sending a message. Very similar to telephone stamps in how they were used except the majority were gummed and applied to a telegraph form. Most remaining telegraph stamps are unused because the used stamps were applied to the telegraph form which contained personal messages and information, and, after use, had to be destroyed by the company. If someone's personal message, or even worse, business message got in the wrong hands, the telegraph companies reputation would be harmed and in turn their business. That is why it is very difficult to find used telegraph stamps or stamps on paper.
Most telegraph stamps were purchased in booklets containing panes of stamps, usually with multiple denominations. The books were typically sold at a discount off face value. Mostly used as business to business, telegraph stamps were also available, and used, by the general public.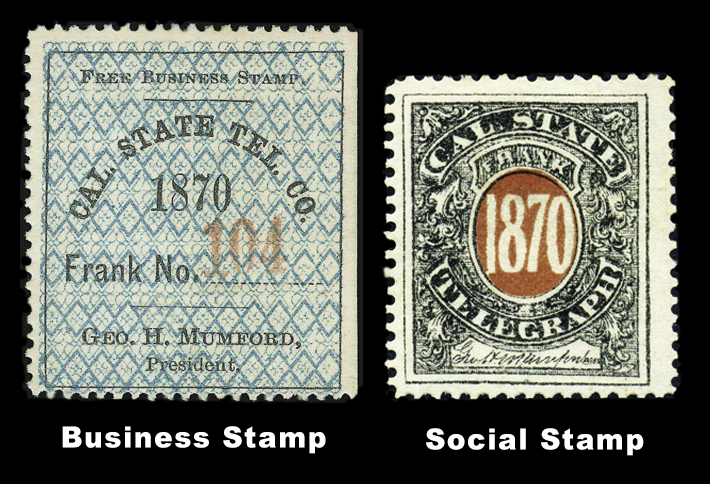 The first telegraph franks produced for use in the United States came from the California State Telegraph Company. They produced two stamps in 1870, one for business use and one for social use. During the late 1800's and early 1900's many telegraph companies produced stamps. For a complete list of all the telegraph companies that produced stamps, see the bottom of this page.
Telegraph stamps are a very fascinating area of history and for those stamp collectors out there, or those wanting to get into a smaller, more obscure stamp genre, I have created a set of stamp album pages for telegraph stamps. For more information just click here: United States Telegraph Stamp Album Page Set
For you serious collectors, here are a few items you might find interesting: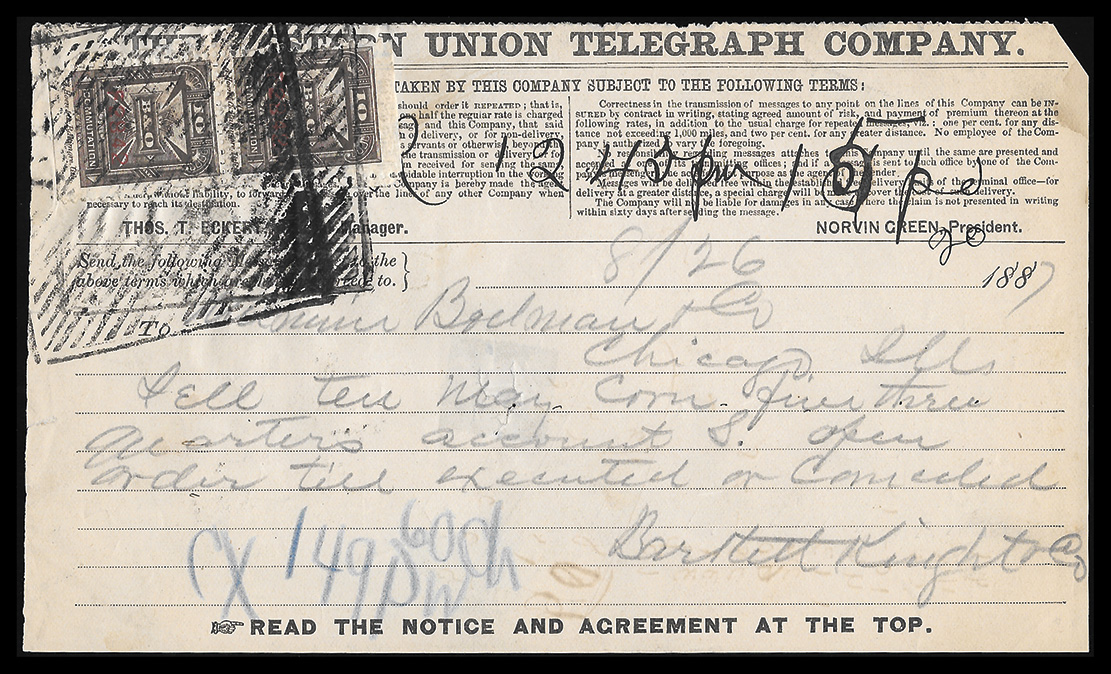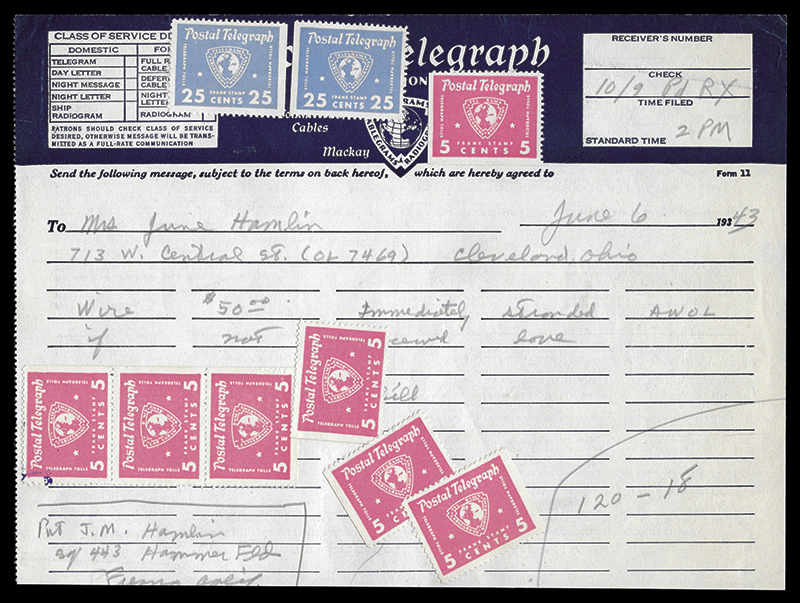 I am currently working on a new catalog of telegraph stamps and related philately. It will be in a similar layout and scope as my book on telephone philately. All color with lots of new information never documented. If you have a collection of telegraph philatelic items and would like to share information, trade stamps or just discuss anything or everything telegraph you can reach me here!
The following telegraph companies have produced telegraph stamps, franks or coupons:
American District Telegraph Company
American Rapid Telegraph Company
American Telegraph Typewriter Company
Atlantic Telegraph Company
Baltimore and Ohio Telegraph Company
Baltimore and Ohio Connecticut River Telegraph Company
California State Telegraph Company
City and Suburban Telegraph Company
Colusa, Lake and Mendocino Telegraph Company
Commercial Union Telegraph Company
Continental Telegraph Company
Los Angeles and San Gabriel Valley Railroad
Marconi Wireless Telegraph Company
Mercantile Telegraph Company
Mutual Union Telegraph Company
North American Telegraph Company
Northern Mutual Telegraph Company
Northern New York Telegraph Company
Pacific Mutual Telegraph Company
Pacific Postal Telegraph-Cable Company
Postal Telegraph Company
Postal Telegraph-Cable Company
Teleport Company
Tropical Radio Telegraph Company
United Fruit Company
United States Telegraph-Cable-Radio Carriers
United Wireless Telegraph Company
Western Union Telegraph Company